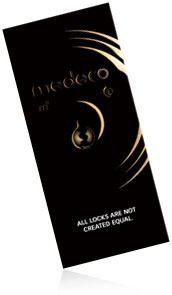 Medeco Security Center
The Lock Shop (TLS) is an authorized Medeco Security Center.
Benefits of Medeco Locks:
Pick Resistance
Drill Resistance
Key Control
Medeco Security Centers are a selected group of Medeco dealers chosen for their professional business practices, experience and desire to lead in educating consumers about security risks and solutions.
At a Medeco Security Center, you will find knowledgeable, factory trained personnel that provide sound security advice, top-notch service, and genuine expertise.
Medeco Security Center partners go through extensive security training. This, coupled with their many years of experience in the physical security business, qualifies them as an expert in high security and Medeco's product line.